::
About Sandra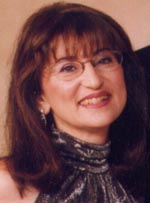 Sandra Phillips was born in New York City, and has lived in the United States, Europe and Canada. She has a Bachelor of Arts Cum Laude and a Masters Degree in Art and Education from Queens College of the City University of New York. In teaching art, she has covered everything from high school in New York City to the primary grades in Canada. After having her children, she freelanced in many areas, doing design work and commercial interior decorating, as well as crafts.
The success of her best-selling book, "Smart Shopping Montreal", now in its 14th edition and twenty-eigthth printing, has directed the path of her life into interesting twists including her own weekly column in the Montreal Gazette and regular CTV News segments.
Sandra is the Montreal shopping consultant for all the media. She is a frequent guest on phone-in radio shows and appears regularly on television (CTV, Global,, CBC). Calls come in constantly to grant newspaper, magazine and television interviews and to give numerous lectures and tours throughout the year.
In order to be fully informed about lifestyles and trends, she travels extensively, and she writes for newspapers, magazines, e-zines and is a correspondent for travel radio shows.
She is married to Stan, a computer consultant who is now her co-author for Drive I-95: Exit by Exit Info, Maps, History and Trivia. They are the proud parents of three sons, two daughters-in-law and two grandchildren. She credits the volunteer work she performed while raising her kids for expanding her abilities and developing skills which helped enormously when setting up her own publishing business.
She lectures for the Greater Montreal Convention and Tourism Bureau groups and conventions and for the Independent Book Publishers Association. Sandra has been featured in ENROUTE magazine as one of their "Remarkable People", in L'ACTUALITE in their Passionate People feature, and in CHATELAINE as one of Canada's smartest shoppers.
Member: Travel Media Association of Canada (TMAC) www.travelmedia.ca, Independent Book Publishers Association (PMA) www.ibpa-online.org, Association of English-language Publishers of Quebec (AELAQ) www.aelaq.org, Small Publishers Association Network (SPAN).
Sandra Phillips Media Appearances
Sandra Phillips has been the shopping guru for the past twenty years. She has written in, been written about and appeared in hundreds of media outlets.
In Canada:
Written: The Montreal Gazette, National Post, The Globe and Mail, Ottawa Citizen, Toronto Star, Toronto Sun, Canadian Press, ader's Digest, Chatelaine, LouLou, Homemakers, Enroute, Voyageur, Via Magazine, Journeywoman.com, Cheap Thrills Montreal, The Suburban, Complete Canadian Used Car Guide, L'Acturalite, Le Journal de Montreal, La Presse, L'Argent et Vous, Montreal Living, Your Home, The Canadian Shoppier, Coup de Pouce, Decoration Chez Soi, Canadian MoneySaver, Montreal Scene, Les Idees de Ma Maison, MTL, Montreal Magazine, Un Peu Plus, L'Essential, Consommation, TV Hebdo, Destination World, Femme Plus, The Chronicle, The Link, Hudson Gazette, McGill Reporter, Cite Nouvelles, Allo Vedettes, London Free Press, Winnipeg Press, Halifax Chronicle Herald Times and Transcript Moncton, The Province (Vancouver), Senior Times
Television: CTV News; Good Morning Canada, CBC Newswatch; Global News, Voxx Videotron, "It's Your Money", Ciao Montreal, Chai Montreal, Claire Lamarche, TQS
In the US:
USA Today, Newsday, New York Daily News, AP Wire, Washington Post, Boston Globe, Miami Herald, Philadelphia Inquirer, Fayetteville Observer, Delaware News Journal, Potomac News, News-Journal, Home News Tribune, Trenton Times, Charlotte Observer, Virginia Living, Asbury Park Press, Princeton Packet, SOHO Business Report, New York Sun, Northeast News Gleaner, Family Motor Coaching, Kiplinger's Retirement Report, Nor'Easter, New Haven Register, Weissmann Travel Reports, Cheap Thrills New York, Buffalo News, Talahassee Democrat, Naples Daily News, North Carolina News Observer, The Sun Link, Morning News, Senior Voice of Florida, The Avery Post, Town Talk, Providence Journal, Carolina Parent, News-Times
Television: NBC, CBS, ABC, Comcast Cable, Fox, News12
Radio: KXAM, AAA Travel Clear Channel, Travels with Kal, WICC, WRVA, WFLO, WCMY, WVTK, WREC, WPAZ, WWPR, WCRE, WBOC, WVMT, Talking Travel Resource Center, WSDF, WTMY, WFLS, WLRN, WHYY, WOR, WXCL, WEAA, KTCH, WNJC, WSPK, WREL
On-line: RoadTripAmerica.com, maps-4-directions.com, disneyworldtrivia.co, canoe.com, Canada.com, FAXTS.com, quart.ca, bookviews.com , PublicityHound.com, dgroff.com/bookshelf.htm, thebooxreviews.com, gypsyjournal.net, travelguidewarehouse.com, Tripsandjourneys.com, wheretogonext.com, golfbusinesswire.com, Shop-it-here.com, Travelguidewarehouse.com, bookreporter.com, dealofday.com, ruv.net, perfectquestion.com